Checkpoint Mobile Guard Shack System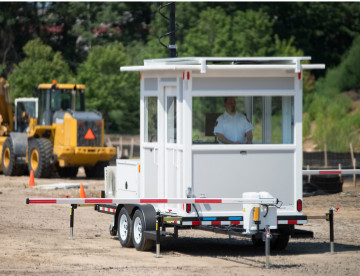 Streamline Telecom is proud to offer the CheckPoint mobile guard shack system, a "purpose-built" platform that combines a guard shack, gate control, video surveillance and lighting technologies. This mobile system offers a weatherproof, climate-controlled, spacious security shack along with the unique ability to control ingress and egress to a remote facility.
Adding video surveillance and lighting capabilities makes this a multi-purpose platform for many different applications. Ideal for construction, utilities, oil and gas and any other temporary work or storage areas requiring additional security.
Click here to download our Mobile Guard Shack brochure.
Key Features
Hybrid Power Systems
Self-sustaining, self-charging
Embedded diesel generator – runs only when needed
Solar
Shore power
Automated Gate Control Arms
Color coded LED status lights
Dual, independently controlled entrance and
exit gate system
On-board gate arm storage when transporting
2 vehicle sensors and 1 automatic exit sensor
Interior gate control
Fast Setup & Simple Operation
Pre-wired mast
Quick-release camera mounting
Interior camera storage rack
Tool-less deployment
Sturdy and Reliable
Built for a wide range of environmental conditions
Offers an insulated enclosure with both heating and
air conditioning.
Comfortable Work Environment
The spacious, well-lit shack includes built-in work areas with large multi-drawer storage, electrical outlets, monitor and master control
Offers 360° vantage point of site
Interior gate control
Trailer
Deployed: 330" x 100" x 240" (L x W x H) (includes mast fully extended and tongue length of 53" and rear gate control arm extended at 100")
Travel: 250" x 100" x 120"
Gross weight: 6,300 lbs.
2 5/16 ball/adjustable pintle hitch
Dual 3500 lb. torsion axles, electric brakes
7 pin wire towing harness for lighting and brakes
4 outriggers with jacks
Rack enclosure with latching, lockable door, 2 pressurized struts
Ventilated battery storage compartment
D.O.T. compliant external safety lighting
Interior (rack enclosure) LED lighting (auto on/off)
1 high current outlet on front bench/desk
Multiple USB charging ports – GPS tracking
Mast with Cabling Specifications
20 ft. telescoping, 4 sections
Electric winch for raising and lowering of mast
Mast stabilization system
Cable management system
Mid-mast junction box – for additional accessories
Top mast LED strobe light assembly; viewable 360°
Top mast LED flood lights; 2 – 42" light bars with 33,000 lumens
Guard Shack Specifications
Dimensions: Exterior 90" X 72" X 90" (L x W x H)
Interior 82" X 64" X 88" (L x W x H)
Extra heavy duty tempered safety glass windows (4 – sides)
2 sliding lockable doors with widows
2 non-slip removable steps
Interior and exterior recessed (in soffits) lighting
2 built-in shelves or work areas at front and back
HVAC system – split air conditioning/heating system, Fujitsu Halcyon – 9000 BTU, ductless unit
Interior storage chest – 32"(H) x 27"(W) x 18"(D), 5 drawers
Camera storage – 4 camera storage rack
Master control panel
Mast, trailer and shack lighting control
Generator control
AC and system status digital display
USB charging (also on shack outlets)
Other Specifications
Barrier Gates (Site Entrance & Exit)
 2 – 12 ft. removable barrier arms with colored LED notification status
Exit arm and controller extend up to 100" from back of trailer
On-board arm storage
3 photo-eye vehicle drive-up detector sensors
Wireless remote control for dual barrier arm gate control operation
MPS Remote Status Monitoring
System status and alarm reporting with remote
Control capabilities through MPStatus & Control
Temperature monitoring
Fuel level
Door open status
Battery voltage
Battery currents
GPS
Generator status
Remote gate status and runtime gate control

Electrical
Embedded 8000 watt diesel generator with 40 gallon fuel tank
Shore Power––External 220 VAC power connection port
Battery Power––800 Ah AGM battery package @ 12VDC
Tri-State battery charging system
Solar Power––900 watt solar package
Rack Mount Enclosure
Interior environmentally controlled cabinet
Capacity: 6U
Size: 19" standard rack mount 17"D X 13.5" H
LED lighting (auto on/off)
40 AMP 24VDC charging system
300 watt pure sine wave Inverter
Electronic equipment rack alarming outputs: Door open, Low fuel, Generator running, Generator failure