Our Capabilities Related to COVID-19 Response
Streamline Telecom has been assisting with the relief efforts related to COVID-19 in New York City, including helping with the setup of temporary field hospitals and mobile testing sites.
In addition to services we normally offer such as structured cabling, access control systems, and video surveillance,  we have added two special services to assist with the pandemic response efforts:
Mobile Guard Shack Systems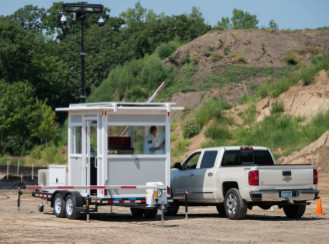 Streamline Telecom is proud to offer the CheckPoint mobile guard shack system, a "purpose-built" platform that combines a guard shack, gate control, video surveillance and lighting technologies. This mobile system offers a weatherproof, climate-controlled, spacious security shack along with the unique ability to control ingress and egress to a remote facility.
Adding video surveillance and lighting capabilities makes this a multi-purpose platform for many different applications. Ideal for construction, utilities, oil and gas and any other temporary work or storage areas requiring additional security.
Click here to download our Mobile Guard Shack brochure.
Rapid Deployment Temporary Lighting Systems
In order to support the timely setup of emergency treatment and recovery areas, we are offering simple, plug-n-play lighting kits. Use cases for these kits include:
Patient testing tent
Patient recovery tent
Portable dormitory
Portable laboratories
Anywhere lighting is needed rapidly
Rapid Deployment Temporary Lighting Kits include everything you need to illuminate a space without complex wiring:
(1) Cisco CDB 8-port UPOE switch.
(8) or (16) Utility LED light fixtures with quick connect cables
(2) Wall stations with on/off and dimming capabilities
(4) or (8) Nodes to power lights and wall stations
One (1) 120v receptacle and minimum Cat5e or better network cables required
Click here to download our temporary lighting kit flyer.