Two High Profile Crimes Solved with Help from Security Camera Footage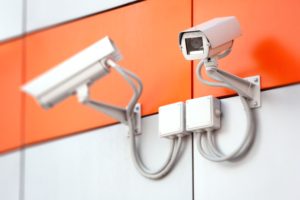 Park your car. Walk into a store. Ride the subway. During all of these activities, it's very likely that you are being recorded on security camera footage. In the western world, closed-circuit television or CCTV is used in the vast majority of public places to help prevent crime.
And since 9/11, security cameras seem to have sprouted on every building, parking garage, and traffic light. While some people have voiced concerns about civil liberties being compromised, it's hard to argue with the statistics; crime dips as cameras roll.
Cities and businesses across the country are installing security cameras in public locations in an effort to deter crime. It's estimated that a staggering 30 million security cameras are currently in use in the US alone. Chicago has about 10,000.  Here in New York City, 6,000 cameras gaze down on the city. While their primary purpose is to catch a video record of potential perpetrators, their very presence does seem to deter people from committing crimes.
Local and national news have covered multiple cases where criminals were apprehended as a direct result of surveillance cameras. Two recent high-profile crimes that occurred and were subsequently solved as a direct result of video surveillance involve the Boston Marathon bombing and the abduction of Carlesha Freeland-Gaither of Philadelphia, PA.
Security Camera Footage and the Boston Marathon Bombing
The Boston Marathon bombing perpetrators were identified and the lone survivor captured within a matter of hours following the bombing.
"How was this accomplished," you ask?
The answer? The video footage obtained from the vast network of surveillance cameras keeping watch over downtown Boston played a pivotal part in nabbing the perpetrators.
While police urged the public to send in what they had recorded that day on their smartphones and cameras, it was the footage from the security camera mounted on the Lord & Taylor department store pointed onto Boylston Street that proved most valuable in identifying and apprehending the suspects.
The Abduction of Carlesha Freeland-Gaither
The abduction of Carlesha Freeland-Gaither occurred at night on a Philadelphia sidewalk.
Surveillance cameras in the Germantown section of the city captured the crime as an unidentified person grabbed 22-year-old Carlesha Freeland-Gaither and forced her into an old Ford Taurus car. The security camera footage of the abduction was released to the public in hopes that someone would recognize the car and come forward.
Amazingly, 300 hundred miles away, police in Virginia saw the video. They happened to be searching at that same time for a violent offender named Delvin Barnes, who was wanted in the abduction and assault on a local teenage girl.
Because of the similarities in the cases, local police showed the video to Barnes' father, who identified the Taurus as his son's. Barnes was ultimately located and apprehended. Freeland-Gaither, injured but alive, was found and returned to her family.
As you can see from the above examples, you never know when security camera footage from a key location might make the difference in solving a crime.  When you choose to make an investment in improving the security of your own business by installing cameras, you're also contributing to increased public safety.
Our highly-trained technicians have years of experience installing security surveillance systems throughout the city. Rest assured, the cameras we install represent the highest quality equipment in the industry. With brands like Pelco, Axis, Bosch, Acti, Everfocus, Digital Watchdog, and Arecont, you can sleep peacefully knowing your property and employees are securely monitored against possible criminal acts.