Five Reasons to Switch to an IP Phone System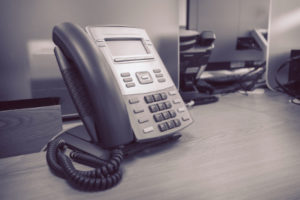 If your business is still using an analog phone system, it's time to consider moving into the 21st century with a cloud-based IP phone system. You might be asking yourself why you'd make the switch—your analog system has worked for years! If it's not broken, why fix it? What can an IP phone system offer that you don't already have with your current system?  Well, there are a number of advantages to upgrading your phones, and we've listed five of them below.
#1: Your costs will decrease if you switch to an IP phone system

We know you're amazed — surely the new-fangled, fancy system will cost more than your old reliable analog system! Nope. As a matter of fact, switching to a IP phone system will cut your costs significantly, anywhere from 40 percent to 90 percent!
There are less up-front costs for equipment, in part due to the fact that you don't need a switch for your phones in your IT room like you would with an analog or PBX phone system.
Additionally, your month-to-month costs are predictable. There are no more roller coaster phone bills, because an IP phone system has a fixed per-user cost structure. Your long distance and your local voice usage will be the same every month.  Finally, updates to the technology can be applied with free software upgrades vs expensive hardware upgrades.
How does that sound? We assume that you're not interested in paying more money than necessary, so we bet it sounds pretty great.
#2: It's easy to use
Sure, it's capable of a number of pretty complicated processes, but it's actually quite simple to use, and, more shockingly, simple to install.
When you switch to an IP phone system, it's going to feel a whole lot like using your analog phone; you'll still probably have a handset and you'll talk into it. You can still check your voicemail, but you will now have new and interesting features such as your call activity history, the ability to track or alter your billing accounts at any time.
As for setup, the combination of your high-speed internet with your IP phone infrastructure means that you won't have to do a tremendous amount of work to get your new system up and running. All of your devices, whether they're the old school desktop phones or a sleek new mobile model, will now be connected to the cloud, saving you time and money in maintenance.
#3: You'll have all the bells and whistles
You might not THINK you need anything other than voicemail, but that's just because you haven't explored all of the options that will be available when you switch to an IP phone system. And there are plenty of options. With IP phone service, you can enjoy features like call recording, auto attendants, call routing, call forwarding, a dial-by-name directory, hold music, and more.
Also, most IP phone systems can integrate with your smartphone or tablet using a mobile app, making it even easier to access from anywhere.
You're probably wondering how much extra all of these awesome features will run you— good news! They're typically included at no additional charge! Get ready to choose your hold music!
#4: Your old analog system is on life support
And the bad news is that there aren't many technicians left who are willing to make house calls to help it limp along a little while longer. Ten years in phone system years is like a century in real time; it's probable that your system's parts aren't being made any more, and the manufacturer probably isn't willing to renew your expired service contract. Now is an excellent time to contact someone to discuss how an IP phone system can revolutionize the way you do business. (We here at Streamline Telecom would love to chat about your options.)
#5: You want to make it easier to telecommute
Face it— telecommuting is the wave of the future, and an IP phone system makes it much easier for your team to work collaboratively. If you force your employees to be tied to an outdated analog system, and therefore tied to the office, you're essentially hamstringing them. Studies show that employees who telecommute are more productive than their office-bound counterparts; not only are they more effective, but they are more content, meaning that turnover becomes less of an issue. Yes, you'll have to learn a new system, but it's worth it to keep your team happy and busy.
Have we convinced you that it's in your company's best interest to switch to an IP phone system? We'd love to answer your questions. Contact us, and we can discuss more of the ways that an IP phone system will improve your productivity as well as that all-important bottom line.